Staying between the fruit trees and vegetable crops; isn't that unique?
Buitenplaats Medemblik is situated on the side of nature reserve De Vooroever and yet close to many facilities and sights of picturesque Medemblik. We strive for the smallest possible ecological feeding step and that is why we make a food forest on the campsite, so that together we can optimally enjoy the shared green experience. can experience. This means that we charge a slightly higher rate for our camping guests, planting and caring for our food forest is not a matter of course. All guests are welcome to help and think along. 
FOR THE CLARITY: THE HOTEL AND THE OUTDOOR LODGES ARE OPEN AS usual,
ONLY THE CAMPING IS PERMANENTLY CLOSED TO PASSERS. MEMBERS OF COUNTRY CLUB LODGE 61 AND OF GROUP NATURE CAMPGROUNDS ARE STILL WELCOME.
We have been awarded the golden greenkey quality mark and are very proud of it !! Another reason to be our guest.
Together with my sons Remmert Jan and Maarten, we look forward to the green future with great confidence and welcome
you with even more passion to our sustainable company.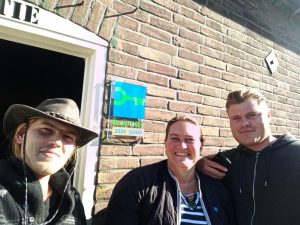 On this small-scale holiday park with lodges camping and more, you can camp comfortably in spacious Lodgetenten, regular lodges or your own camp-site all year round.
Knowing more? Call or email us! Have a look inside and outside with us? click here
We are open all year round and look forward to your reservation.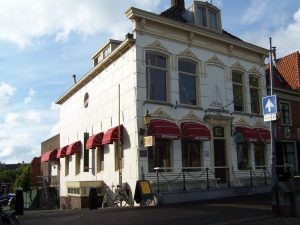 "Top service in an authentic boater's café"
You can eat the tastiest meatballs from Medemblik at Cafe Brakeboer!
Inge and her family
We offer several brand new, fully furnished rental accommodations, and there is our cozy and trendy tasting room with various local products from our own yard and from our environment. Also excursions and activities are organized so that you can experience nature up close (barbeque with our loungeskutsje on the Groote Vliet for example).
In the future you will find fresh products from our own yard and from the area (Greenhouse 16). If it is bad weather, you can go to our bad weather accommodation, just like the camping guests. And if it is really necessary to stay, then there might be a spot in one of our lodges or safari tents.
If we are to believe the stories of bygone times, Medemblik was the Amsterdam of the past, even from the time that Amsterdam did not yet know a dam in the Amstel and Medemblik was the capital of Holland. Let your imagination run free. People earn a living as a fisherman or worked on land and overseas. True adventurers went out for whaling in cold waters.
In the town of Medemblik you can now share the peace and space with the Medemblikers. Moreover, you are within 10 minutes on the dike and you have a beautiful view of the largest crowd puller of Medemblik: the beach and the sea.
Under the characteristic roof of this one-piece lake in the "old land" are 10 lodges, a group accommodation and camping (with glamping), located near the IJsselmeer and the picturesque town of Medemblik. An excellent starting point for an introduction to the maritime and rural past of Medemblik, the place where land and water meet for centuries.
We would like to share that with you.
Enjoy the sunset at a campfire.
See you in Medemblik!